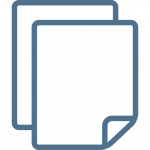 Thinking about a divorce process, people often imagine lawyers working hard to prepare legal paperwork for their clients, filing it with the court, arguing on spouse's behalf during divorce proceedings, and getting hefty checks after the marriage dissolution is finalized. However, what if we told you that in some cases, hiring an attorney is optional?
If you and your spouse choose to solve your issues peacefully and come to an agreement on childcare, asset division, and other aspects of the marriage dissolution, you can get divorced at a significantly lower cost without involving lawyers. While you will still have to pay some court fees, the document preparation process itself won't cost you a single cent if you choose to take care of your divorce paperwork yourself. All you have to do is get divorce forms for California in pdf format and fill them out with the relevant information about your case.
Get California DIY Divorce Forms for Free
Fortunately, you don't have to surf the internet looking for blank divorce papers in pdf format as our team has already collected the necessary forms for the most common cases. All you need to do is to pick the right ones for your situation, download divorce papers for free, print and fill them out, and submit the full package to your local court.
There is no need to worry about the quality of forms listed on our website. All of them are court approved, and we make sure to check for legal updates regularly to see if there are new versions of the documents available. Therefore, as long as you download the divorce papers on this page and fill them out correctly, you will face no issues during the filing process.
What if you still need assistance?
As it is unlikely that you work with divorce documents on a daily basis, it may take you quite some time to understand what forms suit your case and how to answer questions in them properly. Moreover, when the tiniest mistake might mean that your paperwork will not be accepted by the court and you will have to deal with legal forms all over again, it puts a lot of stress on you to do everything correctly from the first try.
If you are feeling overwhelmed and confused or would simply prefer to delegate the paperwork to professionals, our team is here to help. You will just have to complete a simple questionnaire on our main page to get a full package of filled out divorce documents chosen specifically for your case. Besides, it will only cost you $139, and you will receive your papers in a matter of a few days along with the free instructions on how to file them with a court.